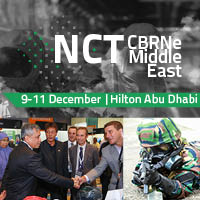 Location: Hilton Abu Dhabi, UAE
Dates: 9-11 December 2014 
NCT CBRNe Middle East, 9-11 December 2014, Abu Dhabi, UAE
Building on highly successful CBRNe exhibitions and conferences in Asia and Europe, the Non-Conventional Threat (NCT) CBRNe event series is coming to Abu Dhabi. NCT CBRNe Middle East 2014 will take place from December 9-11 at the Hilton Abu Dhabi, and will be the first topical CBRNe defense event in the region.
By welcoming government delegations from countries all over the region, leading stakeholders and decision makers in civil protection and crisis management, as well as CBRN defense commanders and battalions, we make sure that you meet the people that matter to your business.
NCT CBRNe Middle East will not only include a conference, but also interactive workshops, a large exhibition, and a live CBRN exercise. NCT CBRNe Middle East 2014 is organized in cooperation with the United Nations Office for Disarmament Affairs (UNODA).
Speakers
Brig. Gen. Aref S. Alzaben, General Director and Military Commandant, King Abdullah II Special Operations Training Center, Jordan

Brig. Gen. Dr Aamer Ikram, Department of Microbiology, Armed Forces Institute for Pathology, Pakistan

Col Henry Neumann, Commander, Bundeswehr CBRN Defence Command, Germany

Col Ayhan Batur, Former Commander, Turkish Armed Forces CBRN School, Turkey

Lt. Col Hussein Al-Hameidi, Director Of Disaster Department, Civil Defence Directorate, Jordan

Dr. Alexander Grabowski, Head Decontamination / Water Purification Directorate, Bundeswehr Research Institute for Protective Technologies and NBC Protection, Germany

Asst. Prof. Aqab Malik, National Defence University of Islamabad, Pakistan

Aayda Al-Shehhi, Radiation Safety Department, Federal Authority for Nuclear Regulation, UAE

Georges Saad, Manager of the Emergency Medicine Training Center, St. George Hospital University Medical Center, Lebanon
For the conference program and the complete list of speakers, please visit www.cbrnemiddleeast.com