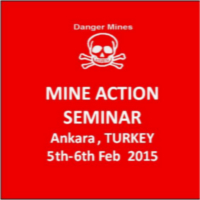 Ankara, Turkey
5th February 2015 - 6th February 2015
Event Overview
Landmine clearing continues to be a priority in Turkey.  Some clearance activities had taken place by military itself and by some private companies.
Turkey acceded to the Ottawa Convention in 2003, and the Convention entered into force for Turkey on 1 March 2004. Turkey undertook to destroy or ensure the destruction of all anti-personnel mines in these areas as soon as possible but not later than 1 March 2014. On 28 March 2013 Turkey submitted a request to extend its mine clearance deadline. The request was granted and a new deadline was set for 1 March 2022. There are three major Mine Action and Explosive Ordnance Clearance projects in Turkey now:
Socioeconomic Development through Demining and Increasing the Border Surveillance Capacity at the Eastern Borders of Turkey Phase 1 & 2
Southern Border Mine Clearance Project.
Military Firing Range Explosive Ordnance Clearance Project.
Our 2015 event will allow you to hear in-depth presentations from a range of high profile and influential speakers, authorities about Mine Action in Turkey covering Current Status, Legislation, Mine Clearance Projects (Eastern Border, Syrian Border) and Military Firing Ranges Explosive Ordnance Clearance Projects. You meet your future friends, partners and customers especially from Turkey and make connections and impression in region. Turkey invests heavily in demining with international support such as UN, EC and NATO.   
To be part of this annual international event please contact us at This email address is being protected from spambots. You need JavaScript enabled to view it.,+44 1582 346 706, or This email address is being protected from spambots. You need JavaScript enabled to view it., +90 532 742 66 89