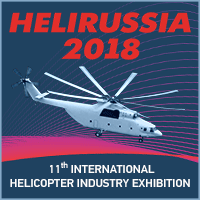 Moscow, Russia
24 – 26, May, 2018
HeliRussia, an annual expo, is the main Russian event in the helicopter industry. In Moscow, it takes place in the pavilion 3 in the same venue "Crocus Expo", 24 – 26, May, 2018.  The 11th time the International Helicopter Industry Exhibition HeliRussia once again gathers maximum exposure of the entire range of products & services of the helicopter industry.
HeliRussia is the unique expo in Russia and the largest in Europe and North Asia. Expo is held with the decree of the Government of the Russian Federation since 2008 and gives an opportunity to display military products. HeliRussia has the support at the highest level: greetings to participants, visitors and organizers of the expo are annually sent by Russian President Vladimir Putin and prominent public and government officials of Russia.
At HeliRussia, domestic and foreign companies showcase wide range of products and services from design, production and upgrade to operation and service & support including military products.
In 2017 HeliRussia celebrated its 10th Anniversary with a big span setting a new record in scale. 237 participating companies, 50 foreign from 21 countries represented: Australia, Belarus, Belgium, Great Britain, Germany, Israel, Spain, Italy, China, Libya, Lithuania, Malta, Netherlands, Norway, Russia, USA, Finland, France, Czech Republic, Estonia and South Africa. Taking into account foreign delegations to expo, visitor geography covers almost the whole world.
HeliRussia demonstrates Russian helicopter market in all its diversity including Russian Helicopters with its subsidiaries and Rostec Corporation enterprises' products on display and engine producers and equipment & component producers' products also Russian helicopter operators, service and support companies.
Today, Russian market demonstrates stable growth and gives foreign companies the opportunity to build an effective business in spite of the general crisis.  Today there are needs in Russia for various products and services that only foreign companies can offer. Only HeliRussia is in a position to enable foreign companies to obtain more information about the Russian market.
The expo is attended by the leaders and top officials of the state, companies' leaders, representatives of ministries and departments, military attaches, businessmen, experts and opinion leaders. HeliRussia gives participants a real opportunity to expand cooperation with Russian companies and establish connections with potential customers.
All companies and organizations having respect to the helicopter industry are welcome to participate in the expo. One of the key HeliRussia's advantages is its transparency to the foreign companies receiving support from the organizers during the whole process of preparation and the event.
The expo is organized by the Ministry of Industry and Trade of Russia by initiative and with support of the Helicopter Industry Association and is executed by "Russian Exhibition Systems".