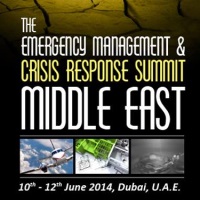 The Emergency Management and Crisis Response Summit
10th, 12th June 2014
Dubai, UAE
Event Overview
Today all businesses depend on a secure supply chain of a products and services. Therefore, protecting vital assets stands as their key responsibility. The ever increasing threats of terrorism, natural disasters, and human error pose growing challenges for protecting those critical assets. Plus, information technology, now the bloodline of nearly all economic and social activity, brings new vulnerabilities and even more challenges.
To protect these assets, businesses, governments, and the private sector must work cooperatively to ensure effective protection. The Emergency Management and Crisis Response Summit proudly presents a platform for Industry Leaders, Sector Experts, Government Agencies, and other stakeholders to collaboratively learn, share, and develop stronger and more agile Emergency Management and Crisis Responses. This three day Summit, tailor-made for industry professionals from aviation, infrastructure, and oil and gas, will provide in-depth industry-specific insights on Emergency Management and Crisis Response.

Why Attend?
Learn proven strategies for reducing risks and creating a robust emergency and crisis management system.

Discover how to evaluate and assess the level of a crisis and its impact, including financial implications.

Examine current and future risk models

Overcome challenges in solving and mitigating disasters

Understand how to reduce the probability of critical risk occurrence, or the magnitude and duration of impact.