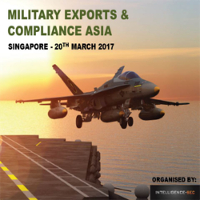 Singapore, Singapore
20th March 2017 - 20th March 2017
Asia-Pacific has many different and new export controls in recent years. This event will allow you to hear from the key nations across the region that will provide details on their latest export regulations and laws.
There will also be an update on the U.S. export control reforms and how this will affect defence trade in the future years.
This regional conference will provide public and private sector officials' in-depth knowledge of the latest export controls and treaties in place across Asia-Pacific and the U.S. There will be a special focus on the ITAR and EAR reforms that are paramount for defence contractors to abide.
Do not miss out on this amazing opportunity to hear from public sector officials across the region that will provide an insight into their nations export controls, regulations and laws.
To be part of this regional conference either as a speaker, sponsor or delegate please contact us at This email address is being protected from spambots. You need JavaScript enabled to view it. or call us at +44 (0)1582 346 706.