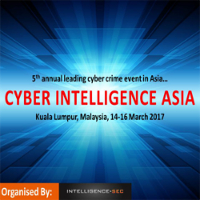 KUALA LUMPUR, MALAYSIA,
14TH – 16TH MARCH 2017
Cyber Security is a huge issue for many governments across the world. With cybercrimes constantly increasing and many government computer systems being targeted it is pivotal that governments keep their critical infrastructures secure from intruders and hackers.
Our 5th annual Cyber Intelligence Asia will once again bring the key officials from across Asia-Pacific to discuss the latest challenges and threats they are facing daily to their computer systems. Cyber criminals are finding new and sophisticated ways to break into government computer systems, meaning that many governments are constantly battling to stay ahead with the latest security systems.
This event will provide you unrivalled access to the leading cyber security officials in the region who will be discussing the following topics; Malaysian Cyber Security Capabilities and Threats faced to their government systems, Regional cooperation between public sector agencies to combat cybercrimes, latest cyber defence systems available, internet security, cyber terrorism, cyber intelligence and regional policies and strategies used to secure critical infrastructures across the region.
Cyber Intelligence Asia will allow you to hear in-depth presentations from the following nations: Malaysia, Singapore, Thailand, Philippines, Japan, Indonesia, China, Taiwan, Cambodia, Laos and many more…
To be part of our 5th annual Cyber Intelligence Asia conference and exhibition as a speaker, sponsor, exhibitor or as a delegate please contact us at This email address is being protected from spambots. You need JavaScript enabled to view it. or +44 (0)1582 346 706