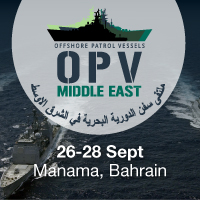 Manama, Bahrain
26-28 September 2016
Join 200+ senior officials from the GCC navy and coast guard and discuss the strategies and technologies to foster cooperation in maritime security in the Middle East. Officially supported by the Bahrain Defence Force and Royal Bahrain Naval Force, this will be the biggest OPV meeting in the region.
Find out more about the event visit the event website now
Why can you not miss this event?
Meet with regional decision makers from navies and coast guards in order to develop relationships and better understand plans for acquisitions and expansion
Improve your understanding of the issues at the heart of maritime security in the Middle East in order to formulate strategies for the future
Meet with senior officers from GCC navies at a time of major proliferation in order to position your company front of mind for plans like the Saudi Naval Expansion Programme II
Learn international best practice and how future technologies are changing maritime operations by hearing from representatives of the most advanced navies in the world
Who will you meet?
Senior officers from navies and coast guards
Shipbuilders, dockyards and MRO providers
Systems integrators, detection technology providers and AIS providers
OEMs who supply solutions to the maritime industry
Specific solution providers aiming at navies and coast guards