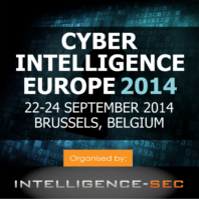 Cyber Intelligence Europe 2014
Brussels, Belgium
22 – 24 September 2014
With the ever growing threat of cyber-attacks on government critical infrastructure there is no better time to come together and discuss the latest threats being seen to breach public sector computer systems.
European governments are now working together and with the private sector to strengthen their defence.
Cyber Intelligence Europe returns to Brussels to allow for good participation from across Europe and from European Governing bodies to share information on how to protect sensitive computer systems from a cyber-attack. Many governments and armed forces are now spending their budgets to strengthen their infrastructure to counter the cyber hackers.
It is not just the government and military looking to secure their computer infrastructure; banks are also being targeted and have been working closely with the public sector to secure their systems from fraud cases and cybercrimes against their systems. With more bank transactions taking place online it is pivotal for global banks to create a strong defence against any breaches.
Don't miss out on participating at our 2nd annual Cyber Intelligence Europe conference & exhibition in Brussels to network with 100+ attendees from the public and private sector.
Confirmed Speakers include:
Jamie Shea, Deputy Assistant Secretary General, Emerging Security Challenges, NATO
Troels Oerting, Assistant Director – Head of European Cybercrime Centre (EC3), EUROPOL
Heli Tiirmaa-Klaar, Cyber Security Policy Advisor, European External Action Service (EEAS)
Frederick Vanneste, Director, Cybersquad, Ministry of Finance, Belgium
Eugen Valeriu Popa, Counsellor, Ministry of Regional Development and Public Administration, Romania
Francesca Bosco, Project Officer, United Nations Interregional Crime and Justice Research Institute (UNICRI)
Eirik Troones Hansen, Prosecutor, Cybercrime section, National Criminal Investigation Service, Norway
Fred Streefland, Director Education, Training & Knowledge Center, European Network for Cyber Security (ENCS)
To participate in this event either as a speaker, sponsor, exhibitor or delegate please contact us at This email address is being protected from spambots. You need JavaScript enabled to view it. or call us on +44(0)1582 346 706