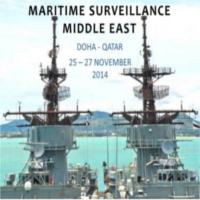 Maritime Surveillance Middle East
25th – 27th November 2014
Doha, Qatar 
Surveillance in the maritime domain is pivotal within the Middle East with high volumes cargo being passed through the Arabian Sea, Indian Ocean and Gulf of Aden. This is a key event to review the latest piracy threats to cargo ships and fisheries. 
To protect the key trade going through the region the surveillance of these waters is mission critical. 
It is down to Naval Forces and Surveillance Teams based at the main Command to secure these waters and allow for safe passage for these important cargo ships to pass through safely. This inaugural Maritime Surveillance Middle East conference & exhibition will bring together senior Naval, Air Force, Coast Guard and Port officials to discuss the latest missions and challenges in the region. There is also a great need to share information on navigation and surveillance systems to help track the threats and the cargo ships travelling through the region.
Taking place in Doha, Qatar who are currently in the midst of building the largest Port in the region at the Port of Doha. This will be the main hub for cargo to be passed through the region, as well as being the main base for the Maritime Security operations of the Qatar Navy.
To find out more about this international event please visit: http://www.intelligence-sec.com/events/maritime-surveillance-middle-east
To register for Maritime Surveillance Middle East either:
Complete our Delegate Booking Form – click here
Complete the registration online at www.intelligence-sec.com
Email us at

This email address is being protected from spambots. You need JavaScript enabled to view it.

 

Call us at +44(0)1582 346 706