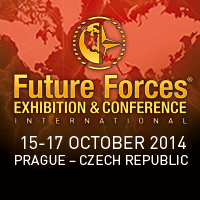 Future Forces Exhibition & Conference 2014
PRAGUE
October 15 and 17, 2014 
The FUTURE FORCES Exhibition & Conference 2014 (FF14) is a follow-on event of the Future Soldier exhibition project that has been successful for many years.
Held for the eleventh time in 2014, it will host the largest-ever meeting of international experts, in particular those on the "21st century soldier" projects, protection against weapons of mass destruction, international logistics or use of autonomous systems. Four special workshops, a conference on cyber threats, discussions on the latest trends and current needs, a number of experts and prominent guests from the whole world, all of the above in one place – this will be the FUTURE FORCES 2014 event.

The FUTURE FORCES Exhibition & Conference 2014 will greet its guests, experts, exhibitors and visitors between October 15 and 17, 2014, at the PVA EXPO PRAHA Exhibition Grounds. The event will comprise a special accompanying programme consisting of four workshops, seminars, live demonstrations; the FUTURE CRISES International Conference, focusing on cyber security issues, will constitute an autonomous part of the programme. The exhibition-cum-conference will be attended by top-level military and political representatives, experts, scientists, representatives of national armament directorates and international acquisition agencies from more than 80 countries of the world.
The principal topics on the agenda of FF14 are as follows:
Future Soldier – protection, equipment, armament, communication and training of soldiers and special forces. The presentation of needs and requirements of various armies, new equipment and systems of the 21st century soldier will take place during the Open NATO Future Soldier Workshop, which will be attended by members of expert groups and representatives of industry from the whole world. The content of the workshop is based on the latest research and substantial support of the academic community (Czech Technical University, Technical University Liberec, University of Defence). The workshop´s coverage will be fairly broad and include Dismounted Soldier Systems, Lessons Learned, Weapon Systems, Optics and Sensors, Adaptive Camouflage, Soldier Readiness, Protection and R&D/Industry.
CBRN – in cooperation with the Military Research Institute in Brno, NATO JCBRN Defence COE, University of Defence, international specialists (NATO JCBRND-CDG group) and companies dealing in the field, the Future Forces 2014 event offers an Open NATO CBRN Workshop. Its main topics include Security Policy Aspects in CBRND, CBRND Capabilities, CBRN Protection – National Concepts, and Research & Development/Industry. 
Logistics – one of the events taking place during the Future Forces 2014 Exhibition & Conference will be a unique meeting of the Multinational Logistics Coordination Centre (MLCC) and a meeting of top-ranking logisticians from more than 25 countries. Specialists in logistics will discuss conclusions of and lessons learned during the recent largest-ever logistic exercise in NATO´s history and future challenges of logistic operations during the Capable Logistician Workshop. The workshop will focus on international logistic operations and their various aspects – national and international views on future development of logistics and related technologies, Functional Partnership for Fuel Handling, MILENG/LOG Partnership for Water Production and Distribution, Partnership for Deployable Ammunition Storage, Maintenance and Recovery, Smart Energy (SE), Movement and Transportation, Electric Power Production, Material Handling, JLSG (Joint Logistics Support Group), Helicopter Operations, Movement Control (MovCon), LOGFAS (LOGREP, ADAMS, CORSOM, EVE), Infrastructure Engineering for Logistics (IEL), RSOM (Reception Staging Onward Movement), Asset Tracking and Logistics Services. One of the institutions taking part in the workshop´s preparations is also the Multinational Logistics Coordination Centre (MLCC).
Autonomous assets – their broad potential applications for both military and civilian purposes and legal aspects of their use will be presented during the Unmanned Systems Workshop organized in cooperation with the University of Defence, Czech Technical University, EUROCONTROL, EASA and FRONTEX. Unmanned aerial vehicles will be viewed and assessed by different users, including armies, navies, police forces or air forces, and from different angles, including science, civilian applications, medicine, economy or current conflicts and combat against terrorism. 
Acquisition plans and current needs and requirements of the North Atlantic Alliance and different countries will be presented in Prague as well.
Another event taking place during the Future Forces 2014 Exhibition & Conference in Prague will be a meeting of one of the most important expert working groups of NATO - AC/225 LCG DSS (Dismounted Soldier Systems). The group has about 150 members from 35 countries and its mission is, inter alia, to monitor and keep track of developments of new technologies and to formulate requirements for equipping military units by small-calibre weapons, optics, ammunition, non-lethal weapons, personal gear and equipment and communication assets.
Another fifty experts of the NATO Joint Chemical Biological Radiological Nuclear Defence Capability Development Group (JCBRND CDG) will also meet during the Future Forces 2014 Exhibition & Conference in Prague and will focus on future CBRN threats and needs. They will also actively participate in the workshop mentioned above.
An autonomous chapter of the accompanying programme is the FUTURE CRISES International Conference, following on the previous FUTURE of CYBER conference and held under the professional auspices of and in cooperation with the Armed Forces Communications and Electronics Association (AFCEA). The main topics it will discuss will include cyber security, protection of data in mobile networks, protection of critical infrastructure elements, inner security of the European Union and crisis management.
The Future Forces 2014 Exhibition & Conference will host not only leading representatives of top echelons of NATO, the Alliance´s partners or EU, but also representatives of countries with a rapidly growing commercial potential from Latin America or Asia.
The event´s meticulously composed agenda and close and intensive cooperation with and under the auspices of the Czech ministries of defence, interior, industry and trade, and foreign affairs, Czech Chamber of Economy, NATO HQ and EDA, Military Research Institute and many other institutions attract to Prague not only military and civilian experts, but also purchasers and businessmen looking for new suppliers.
Detailed information on the FUTURE FORCES 2014 exhibition and its accompanying programme can be found at www.natoexhibition.org.