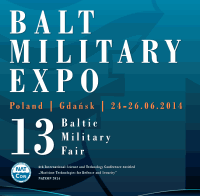 Gdańsk Poland
24-26 June 2014
Event Overview
you are invited to participate in the thirteenth Baltic Military Fair BALT-MILITARY-EXPO, which will take place on 24-26 June 2014 in the Exhibition and Congress AMBEREXPO in Gdansk. The fair takes place in close cooperation with the Ministry of Defence and the Commander, Navy.
organized since 1998 BALT-MILITARY-EXPO are closely linked to the sea and the coast. It focuses on maritime safety, the latest weapons systems, rescue at sea and on land. Dedicated to the Polish Navy, other types of forces and the Ministry of Interior.
Polish Navy and other types of armed forces are under construction, signed December 11, 2012, the "Plan for Modernisation of Technology" and the previously approved "Program of development of the Polish Armed Forces in the 2013-2022 "is continuing with the modernization process of the Border Guard, the Police and the State Fire Service. Armed forces and national security formations are expected to offer original equipment manufacturers, equipment and supplies, and invite you to participate in the modernization process. Balt Military Expo 2014 will be an excellent opportunity to present the latest and most innovative products and solutions dedicated to the armed forces.