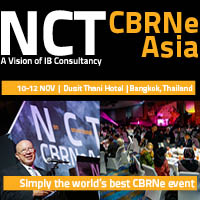 NCT CBRNe Asia
10-12 November 2015
Dusit Thani Bangkok, Thailand
The fourth edition of Asia's premier CBRNe event The Non-Conventional Threat: CBRNe Asia 2015 will take place 10-12 November in Bangkok, Thailand. NCT CBRNe Asia events are established and leading regional CBRN summits in Southeast Asia.
After the successful events in Thailand, Malaysia, and Cambodia, this year's NCT CBRNe Asia will return to Thailand. This fourth edition of NCT CBRNe Asia will be again the largest CBRN Defense and Civil Protection networking forum in the Asia-Pacific. 
NCT CBRNe Asia is the opportunity to meet CBRN Defense Commanders, Fire Marshalls, Police Special Forces, Government Representatives and internationally known experts from all over the Asia-Pacific. Especially in Asia where CBRN related challenges are vast and disasters comparatively frequent, the establishments of a regional CBRN response community is of outmost importance.
NCT CBRNe Asia 2015 will again include a live CBRN exercise, organized by the Royal Thai Army, as well as a two days of conference and exhibition, and the NCT CBRNe Awards Gala Party.