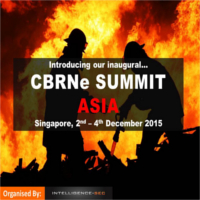 CBRNe Summit Asia
Singapore, Singapore
2nd December 2015 - 4th December 2015
CBRNe Summit Asia will bring together leading officials from regional Armed Forces, Hospitals, Intelligence Agencies, Civil Defence Agencies, Fire Departments, National Police Forces and leading CBRNe commercial companies.
With the threat of infectious diseases and CBRNe attacks becoming more prominent across the globe, we are pleased to announce that we will be hosting our inaugural CBRNe Summit Asia conference & exhibition in Singapore. This event will allow you to meet with leading CBRNe officials from civil and military agencies in one place.
To be part of our inaugural CBRNe Summit Asia either as a speaker, sponsor, exhibitor or delegate please do not hesitate to contact us at This email address is being protected from spambots. You need JavaScript enabled to view it. or +44(0)1582 346 706.