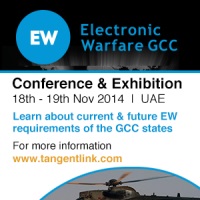 Abu Dhabi, UAE | 18th - 19th November 2014
Electronic Warfare GCC 2014
Conference & Exhibition
Tangent Link is proud to deliver the 4th in this highly successful series of Electronic Warfare conferences & exhibitions for the GCC countries.
As growth in Electronic Warfare capabilities accelerates across the Middle East, leading nations acknowledge that EW remains critical to operational effectiveness. This focused event helps to meet the markets need to learn about developments in EW from international EW specialists and operators.
ATDI
Chemring Technology Solutions
CRFS
CSIR
Elettronica
ESL Defence Ltd
EW Solutions
L-3 TRL Technology
MASS
Microwave Vision Group
Plath
Rockwell Collins
Rohde & Schwarz
Selex ES
Thales
The Middle East is one of the largest growing markets in Electronic Warfare and Cyber defence
EW GCC 2013 attracted over 200 delegates from 17 nations and key decision makers from all GCC countries
IT is recognised as a leading international event by EW commanders and senior government stakeholders
Unmatched 'business connection services' to assist with EW opportunity acceleration