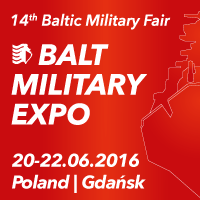 XIV Baltic Military Fair BALT-MILITARY-EXPO
20-22 June 2016
Gdansk, Poland
Event Overview
The event will be held under auspices of Mr. Antoni Macierewicz, Polish Minister of National Defence.Chairman of Programme Board is Mr. Bartosz Kownacki – Secretary of State in Ministry of National Defence.
An integral part of the fair is the International Tech-Science Conference "Naval Technologies for Defence and Secuirty" NATCON, organized by the Ośrodek Badawczo-Rozwojowy Centrum Techniki Morskiej S.A., Naval Academy and Gdansk International Fair Co. and co-organized by the Military Technical Academy, the Academy of National Defence and the Gdansk University of Technology.

In cooperation with the Ministry of National Defence, the General Command of the RSZ and the Inspectorate of the Navy doznes of invitations were sent to delegations at ministerial level commanders and foreign navies.
The fair will be also accompanied by the International Conference and Exhibition of Medical Rescue RESCUE EXPOand International Exhibition of Unmanned Maritime Systems Air LandUSEALS.
We kindly invite you to participate
All the necessary information can be found on www.baltmilitary.pl, where you can also read the current list of exhibitors
http://baltmilitary.amberexpo.pl/title,lista_wystawcow,pid,3239.html