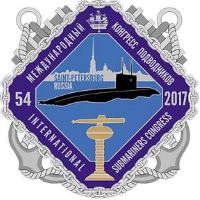 SAINT-PETERSBURG, RUSSIA
5 - 12 June, 2017
On May 27, 2016, during the 53rd Congress in Croatia, the right to hold the next Congress was granted to the Russian veterans-submariners by the decision of Council of heads of delegations of the participating countries. The rolling symbol of the Congress was passed on to the St. Petersburg club of submariners.
Russian veterans of the submarine fleet joined the Congress in 1998. In May 2000, the Congress was held in Russia for the first time, and was conducted in its marine capital - St. Petersburg. Participants of the International Submariners Congress were the first to provide assistance and support to the families of the crew of ASMC K-141 "Kursk", lost on 12 August 2000. International Congress of Submariners - an annual event that brings together submariners from many countries. It was organized for the first time in 1962 in Paris, at the initiative of veterans of World War II from Germany and France to bring together representatives of one of the most heroic naval profession.
We hope that the time you spend during of the Congress will be remembered by the unforgettable atmosphere of friendship and mutual respect. 
The organizer of the 54th International Congress of Submariners
St. Petersburg Club of Submariners and Navy veterans.
Saint-Petersburg, Russia 199004,
Vasil'yevskiy Ostrov, 5 Liniya, 46-B
Phone.: +7 (812) 323-24-67
Fax: +7 (812) 323-07-78
e-mail: This email address is being protected from spambots. You need JavaScript enabled to view it.
www.54isc.com