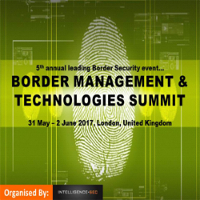 London, United Kingdom
31st May 2017 - 2nd June 2017
With UK citizens recently voting to leave the European Union (BREXIT) this will have a huge impact on the UK Border Force operations and functions. There will also be implications for UK citizens and mainland European's wishing to travel back and forth between the UK and mainland Europe.
Our 5th annual Border Management & Technologies Summit will bring together leading border security officials from the UK and across Europe to discuss key issues regarding European border challenges, threats, organised crimes and EU policies and strategies.
There have also been significant discussions recently regarding the Schengen Agreement and the free movement of people across Europe. With some European nations closing their borders in times of mass migration, our event will evaluate the pros and cons of the Schengen arrangement and whether it needs to be amended to suit individual nation's needs and requirements on the movement of people across Europe.
Europe has been challenged recently by large numbers of migrants and refugees leaving the conflicts in their home country to travel to the safe havens of Europe. This has placed pressure on European borders and challenges in tracking individual migrants in Europe seeking asylum. Border Management & Technologies Summit will analyse the best solutions to deal with migration and immigration policies and laws.
Many European countries have or are developing API/PNR systems to help track the movement of people across Europe and our event will review the different API/PNR systems in place across Europe.
To be part of our 5th annual Border Management & Technologies Summit either as a speaker, sponsor, exhibitor or delegate please contact us on This email address is being protected from spambots. You need JavaScript enabled to view it. or +44(0)1582 346 706